Mel Campos, Board Chairman
Mel serves as Chief Professional Officer of the Boys & Girls Club of Mount Vernon. Mel started his association with the Boys & Girls Club as a member of the Pathhways for Youth Boys Club in the Bronx and has held leadership roles in many Boys & Girls Clubs. He is a lifetime Boys & Girls Club Advocate. Prior to his work with Boys & Girls Clubs, Mel held leadership positions with the Bank of New York, the City Volunteer Corps, the Albany Service Corps, the New York National Guard Challenge Program, Public Private Ventures, and the 1996 Olympic Games in Atlanta. A graduate of Manhattanville College, Mel is married to Barbara Allen and has three children, Adam, Lorin, and Brian.
Carla Giordani, Board President
Carla specializes in working with nonprofits and has been in the nonprofit sector for over 10 years. She has worked for cultural and educational nonprofits. She brings with her a wealth of expertise, in fundraising and events. She is knowledgeable raising funds in today's world pulls from the very latest innovative strategies and technologies. She currently works at the New York Junior league and manages their Annual Fund and their donor database. She holds a BA in Liberal Arts from the College of New Rochelle.
In her spare time, Carla enjoys traveling, cooking, dancing, and brunching with friends.
Christine Kattan, Treasurer
Christine joined the Board of Directors of NYC Kids Project in 2018 and serves as Treasurer. She brings 13 years of professional experience as a consultant to government and private clients, with specific expertise in training users on the use of new financial systems. Most recently, she completed three years of service as an executive board member of a downtown Manhattan public school, including two years as treasurer. As a mother of two and daughter of immigrant parents, she brings a unique perspective and passion to issues affecting children. Christine holds a BS in Biology from the University of South Dakota and an MBA from the William E. Simon School of Business at the University of Rochester.
Ilaria Fusina, Secretary
Ilaria Fusina is an editor, writer and translator whose clients have included the Museum of Modern Art, the Cooper Hewitt National Design Museum, and Rizzoli International Publications where she was, until recently, a senior editor. The arc of her twenty-year career in publishing has run parallel to a life-long commitment to philanthropy that is gradually taking hold as her primary focus. She has worked with victims of domestic violence in the past and currently counsels families facing pediatric surgery at Mount Sinai Medical Center, volunteers with Free Arts and Girls Inc., and is head of community service initiatives at her children's school. Ilaria has a Bachelor of Arts in Psychology and Art History from Georgetown University and a Masters degree in Italian Literature from New York University. She is currently a director at The Duchossois Family Foundation.
Shelley Hoberman
Shelley is a certified clinical social worker with over 30 years of experience working in child welfare, family and children's services and in New York City public schools. She has directed parenting centers for the Educational Alliance for the NYC Department of Education Pre-Kindergarten program. Through parenting workshops and children's counseling groups, Shelley has reached out to the many diverse communities and people that make up our city. She is honored to have spent a career talking with and about children and their parents.
Kanna Kitamura
Born in Tokyo, Japan and raised in New York, Kanna is the Head of Legal Operations for Guggenheim Investments. She is a member of Guggenheim Partners' Women's Innovation and Inclusion Network Committee and Pro Bono Counsel Committee and has acted as a Mentor in its Veterans Transition Assistance Program. Prior to joining Guggenheim, Kanna was a VP of Business Development and Director of Operations for a management consulting firm and was employed by the United Nations Development Programme in the Division of Public Affairs. Her commitment to outreach, civil liberties and education started early, with her family's active involvement with organizations that include The Kips Bay Boys and Girls Club, the I Have A Dream Foundation and Synergos. She is a certified Special Olympics Equestrian Coach and volunteers with various wildlife and conservation groups. She received her BS from Georgetown University and JD from Brooklyn Law School.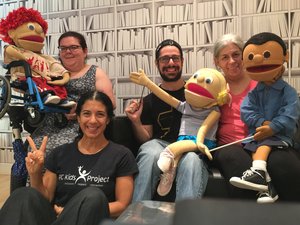 Our Advisory Board includes…
Emily Ladau, Kyle Khachadurian, and Janice Hamman (not pictured).